Cost: $89/hour before 8pm + $60 security deposit
$109/hour + $80 after 8pm

Includes:
Private Room for up to 46 guests

Tables, chairs (see below)

Wi-Fi

Surround sound speakers

2 bathrooms

Add additional hours for only $75/hour. Does NOT include:tablecloths, food, cutlery, plates, bowls, food, cups, etc…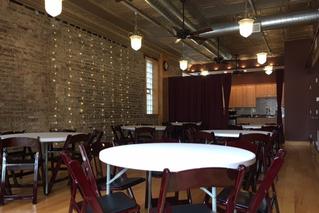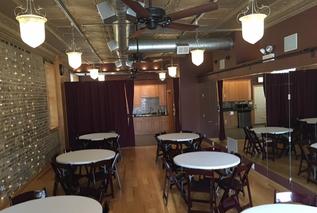 ADDITIONAL SERVICES:
Premium gold or silver table settings: $149 (up to 10 tables)
Includes:
White/Black linen blend tablecloths

Disposable cutlery, plates, and cups for up to 50 people

Table runner (silver or gold)

Does NOT Include: food, flowers
Other A-LA-CART OPTIONS
Tablecloths:
Linen blend…$10/table (white/black only)
Disposable…$5/table
Parking spot (s)…$20 for 1, $30 for 2
CYSS encourages public transportation to events.  The 49 Western bus stops a block away.